Physical Security Services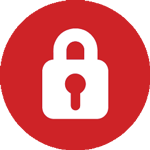 Ensuring appropriately scoped security solutions, our Saptron Security Services team leads the way in design and installation of access-control, security video, video analytics, perimeter control, and automatic recognition security solutions. In partnership with our Infrastructure Services team or your in-house infrastructure support team, we provide the expertise and actions for scoping, design, implementation, and handoff/training to your team or a 3rd party security monitoring provider. With the Internet of Things (IoT) exponentially growing and at a record pace in the physical security domain, we ensure solutions above compliance of industry standard cybersecurity controls. Our expertise assures no gap between the physical security and cyber security worlds.
"I have been highly impressed by Saptron's ability to rapidly mobilize a team for projects that typically take months before help is on the way. Their approach to understanding the business need, assessing risk, and recommending the appropriate actions is a breath of fresh air in an industry that typically has been all-too restrictive. They allowed our business to even improve efficiency while ensuring our risk exposure was reduced significantly. I cannot tell you how impressive our partnership has been."

~John P.
Senior Director, Infrastructure and Cloud Services, Company Confidential
Call Us Now: 720-642-7549